Are you passionate about data analysis and strategic decision-making? Asset Management & Maintenance Solutions Canada Inc. is currently seeking a skilled and experienced Analysis Manager to join our dynamic team. As the Analysis Manager, you will play a pivotal role in coordinating data collection and analysis, developing analytical strategies, and providing valuable insights to drive business success. If you have a strong background in finance and possess excellent analytical skills, we encourage you to apply for this exciting opportunity.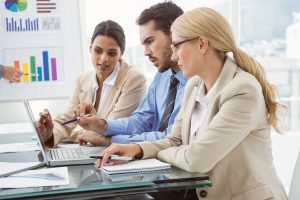 Job Title: Analysis Manager
Location: Brampton, ON
Term: Permanent employment, Full time
Start Date: Starts as soon as possible
Vacancies: 1 vacancy
Salary: $50,000 annually / 37.5 hours per week
Benefits: Health benefits, Financial benefits, Other benefits
As the Analysis Manager, you will lead a team of analysts in collecting and analyzing data to uncover valuable insights for our organization. With your expertise, you will develop and implement analytical strategies to support decision-making processes and improve overall operational efficiency. Your role will involve overseeing data quality and integrity, identifying trends and patterns, and presenting your findings to senior management and stakeholders.
Key Responsibilities:
Coordinate data collection and analysis: You will be responsible for coordinating the collection of data from various sources and ensuring its accuracy and completeness. By leveraging your analytical skills, you will transform raw data into meaningful information that drives business strategies.
Develop and implement analytical strategies: As the Analysis Manager, you will devise effective strategies to analyze complex data sets and extract actionable insights. Your strategic thinking and problem-solving abilities will be instrumental in identifying opportunities for process improvements and business growth.
Oversee data quality and integrity: Maintaining data integrity is crucial for accurate analysis. You will establish and enforce data quality standards, ensuring that data is clean, reliable, and up-to-date. Additionally, you will implement data privacy and security regulations to safeguard sensitive information.
Manage a team of analysts: Leading a team of analysts, you will provide guidance, mentorship, and support to ensure their professional growth. Your strong leadership skills will empower your team to excel in their roles and deliver high-quality analytical results.
Monitor and report on key performance indicators: You will develop performance metrics and dashboards to monitor the effectiveness of analytical initiatives. By tracking key performance indicators (KPIs), you will enable data-driven decision-making across the organization.
Provide insights and recommendations: Your in-depth analysis will generate valuable insights and recommendations for senior management. Your ability to communicate complex ideas in a clear and concise manner will be essential in influencing strategic decision-making processes.
Collaborate with cross-functional teams: Working closely with cross-functional teams, you will gather requirements, understand business objectives, and collaborate on projects that require analytical support. Your strong interpersonal skills will enable effective communication and collaboration with stakeholders from various departments.
Conduct research and stay up-to-date with industry trends: To stay at the forefront of data analysis, you will conduct research and keep abreast of industry trends, emerging technologies, and best practices. Your continuous learning mindset will contribute to the advancement of our analytical capabilities.
Drive process improvement initiatives: As a proactive and innovative Analysis Manager, you will identify opportunities for process improvement and drive initiatives to streamline data analysis workflows. Your ability to optimize processes will enhance operational efficiency and accelerate business growth.
Develop and maintain analytical tools and systems: You will be responsible for developing and maintaining analytical tools and systems that support data analysis activities. Your technical proficiency and attention to detail will ensure the accuracy and reliability of analytical outputs.
Train and mentor analysts: Guiding the professional development of your team, you will provide training, mentorship, and ongoing support to enhance their analytical skills. Your leadership and coaching abilities will foster a collaborative and high-performing team environment.
Lead projects and initiatives related to data analysis: As an Analysis Manager, you will have the opportunity to lead projects and initiatives that require advanced data analysis. Your project management skills will be instrumental in driving successful outcomes and achieving organizational objectives.
Personal Suitability:
Dependability
Efficient interpersonal skills
Excellent oral communication
Flexibility
Initiative
Organized
Reliability
Team player
How to Apply:
If you are ready to take on this exciting opportunity as an Analysis Manager at Asset Management & Maintenance Solutions Canada Inc., please follow the steps below to apply:
Visit our careers page at https://lbssi.com/careers/.
Locate the job posting with the reference number FM-001.
Include the reference number in your application.
Provide a link to your web portfolio.
Answer the screening question regarding your legal eligibility to work in Canada.
Please note that this employer promotes equal employment opportunities for all job applicants. We encourage individuals who identify as Indigenous people, Newcomers to Canada, Veterans, Visible minorities, and Youth to apply. However, please ensure that you meet the following criteria before applying:
You are a Canadian citizen, a permanent resident of Canada, or a temporary resident with a valid Canadian work permit.
If you are not authorized to work in Canada, please refrain from applying, as the employer will not respond to your application.
Don't miss this opportunity to join a leading company in the field of asset management and maintenance. Apply now and become an integral part of our team!