Are you passionate about the beauty and wellness industry? Do you thrive in a fast-paced, customer-centric environment? Little Lounge Nails and Esthetics, a premier spa located at 20349 88 Ave, Langley, BC, V1M 2K5, is currently seeking an experienced and dynamic Spa Manager to join our dedicated team. This is an incredible opportunity to lead our spa operations, create a welcoming environment, and ensure exceptional service for our valued clients. If you have a keen eye for detail, exceptional organizational skills, and a desire to excel in a management role, we invite you to apply and become part of our growing family.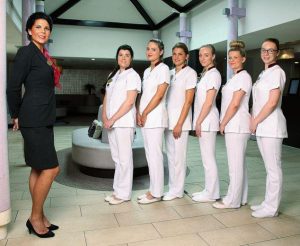 Job Details:
Position: Spa Manager
Working Hours: 35 hours per week
Compensation: $29.00 hourly
Employment Type: Permanent, Full-time
Start Date: As soon as possible
Vacancies: 1
Location: 20349 88 Ave, Langley, BC, V1M 2K5
Job Description:
As the Spa Manager at Little Lounge Nails and Esthetics, you will play a pivotal role in the smooth operation of our spa. Your primary responsibilities will include implementing effective policies and procedures, managing the budget and inventory, supervising staff, addressing customer concerns, and ensuring the overall success of our daily operations. You will have the opportunity to lead a team, foster a positive work environment, and contribute to the growth and success of our business.
Key Responsibilities:
Establishing and implementing policies and procedures for staff: As the Spa Manager, you will have the responsibility of developing and enforcing guidelines to ensure consistent service quality and adherence to industry standards. By creating a supportive and professional work environment, you will empower your team to deliver exceptional customer experiences.
Planning and controlling budget and inventory: Managing finances and resources effectively is crucial to the success of our spa. You will be responsible for budgeting, tracking expenses, and optimizing inventory to maintain profitability and high-quality services. By analyzing data and making informed decisions, you will contribute to the long-term sustainability of our business.
Managing contracts for advertising or marketing strategies: To attract new clients and retain existing ones, you will oversee advertising and marketing efforts. Collaborating with external vendors, you will ensure our spa is well-promoted, staying up-to-date with industry trends and engaging our target audience effectively.
Hiring, training, and supervising staff: Building a competent and motivated team is essential for providing exceptional services. You will be involved in the recruitment process, training new employees, and nurturing their skills. By providing guidance and mentorship, you will empower your team members to deliver outstanding results.
Addressing customers' complaints or concerns: In this role, you will act as a point of contact for customer feedback, ensuring their satisfaction and resolving any issues that may arise. By maintaining open lines of communication and actively seeking feedback, you will contribute to building strong customer relationships and a loyal client base.
Planning, organizing, directing, controlling, and evaluating daily operations: From scheduling appointments to coordinating staff activities, you will oversee the day-to-day operations of our spa. Your ability to multitask, prioritize tasks, and maintain a high level of efficiency will be instrumental in achieving smooth and successful operations.
Personal Suitability:
To excel as a Spa Manager at Little Lounge Nails and Esthetics, we are seeking an individual who possesses the following qualities:
Dependability: Demonstrating reliability and accountability in performing your duties consistently.
Efficient interpersonal skills: Ability to communicate effectively and build positive relationships with staff and customers.
Excellent oral communication: Articulating information clearly and concisely to convey instructions and expectations.
Flexibility: Adapting to changing circumstances and successfully managing unforeseen challenges.
Initiative: Taking proactive steps to identify and address opportunities for improvement.
Organized: Demonstrating strong organizational skills to manage various aspects of spa operations efficiently.
Reliability: Consistently delivering high-quality work and meeting deadlines.
Team player: Collaborating effectively with colleagues and supporting a harmonious work environment.
How to Apply:
To be considered for this exciting opportunity, you can apply using one of the following methods:
By Email: Send your resume and cover letter to this EMAIL.
By Mail: Mail your resume and cover letter to: 20349 88 Ave, Suite 14 Langley, BC V1M 2K5
Equal Employment Opportunities:
At Little Lounge Nails and Esthetics, we are committed to fostering an inclusive and diverse workforce. We encourage all qualified individuals to apply, including those who self-identify as Indigenous people, newcomers to Canada, veterans, visible minorities, and youth. We value the contributions and perspectives that individuals from diverse backgrounds bring to our team.
Who Can Apply:
To be eligible for this position, please ensure that you meet the following criteria:
You are a Canadian citizen, a permanent resident of Canada, or hold a valid Canadian work permit.
If you are not authorized to work in Canada, please refrain from applying, as we are unable to respond to applications that do not meet this requirement.
Join Our Team:
If you are enthusiastic about the beauty and wellness industry and are ready to take on the challenge of leading a spa team, we invite you to apply for the Spa Manager position at Little Lounge Nails and Esthetics. This is an excellent opportunity to contribute to a thriving business and make a positive impact on our clients' lives. Don't miss your chance to join our dedicated team and take your career to new heights. Apply today!