Are you looking for a fulfilling career in the agricultural industry? Look no further! Heck's Enterprises Ltd is currently seeking a dedicated and passionate Farm Labourer to join our team in Sceptre, SK. As a leading agricultural organization, Heck's Enterprises Ltd offers a permanent full-time position with competitive hourly wages of $25.00. If you have a love for working with animals, operating farm machinery, and cultivating crops, this could be the perfect opportunity for you. Read on to discover more about the vacancy and how to apply.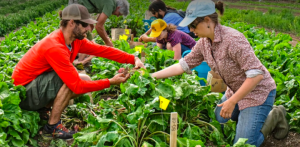 Job Details:
Position: Farm Labourer
Working Hours: 40 hours per week, paid at an hourly rate of $25.00
Employment Type: Permanent, Full-time
Start Date: As soon as possible
Vacancies: 1 vacancy
Location: Sceptre, SK
Job Benefits:
At Heck's Enterprises Ltd, we value our employees' well-being and offer a comprehensive range of benefits, including health benefits, financial benefits, and other additional perks. We prioritize the happiness and satisfaction of our team members, ensuring a positive work environment and opportunities for growth.
Responsibilities:
Plant, cultivate, and irrigate crops: You will be involved in the process of planting and nurturing various crops on our farm. This includes preparing the soil, sowing seeds, watering, and maintaining the plants for optimal growth.
Feed and tend animals: Your role will also encompass providing care and attention to our livestock, including beef cattle. This involves feeding, watering, and ensuring the animals' overall well-being.
Operate and maintain farm machinery and equipment: As a Farm Labourer, you will be responsible for operating and maintaining a range of farm machinery and equipment, such as combine harvesters, tractors, loaders, and more. Your expertise in handling these tools will contribute to the efficiency of our operations.
Provide agricultural crop services: You will be actively involved in providing essential agricultural services such as plowing, irrigating, cultivating, spraying, or harvesting crops. Your efforts will directly contribute to the success of our farming activities.
Requirements:
Languages: Proficiency in English is essential for effective communication and coordination within the team.
Education: No specific degree, certificate, or diploma is required for this position. We value experience and a passion for the agricultural industry.
Experience: Previous experience in a similar role within the farming industry for a minimum of 1-2 years is preferred. Familiarity with beef cattle ranching, farming, and livestock services is highly advantageous.
Work Site Environment: Our farm operations include beef cattle ranching and farming, including feedlots, as well as livestock combination farming. Comfort with working in rural areas and the willingness to relocate are necessary.
Equipment and Machinery Experience: Familiarity with operating and maintaining farm machinery and equipment is crucial. Experience with combine harvesters, forage equipment, haying equipment, loaders, manure spreaders, and tractors is beneficial.
Automated Systems Experience: Knowledge of automated irrigation systems will be an asset in managing our farming operations efficiently.
Area of Specialization: A focus on beef cattle and agricultural livestock services is the primary area of specialization for this role.
Work Conditions and Physical Capabilities: The position may involve handling heavy loads, so physical fitness is important. Attention to detail, the ability to alternate between sitting, standing, and walking, as well as bending, crouching, and kneeling, are necessary. Overtime may be required during peak periods.
Personal Suitability: We value individuals who are dependable, possess efficient interpersonal skills, excel in oral communication, demonstrate flexibility, take initiative, are organized and reliable, and thrive in a team-oriented environment.
How to Apply:
To apply for the Farm Labourer position at Heck's Enterprises Ltd, please EMAIL your application. Your application must include the following:
Letter of recommendation: Include a letter highlighting your strengths, experiences, and passion for the agricultural industry.
Copy of portfolio or relevant work examples: If applicable, provide samples of your previous work or any relevant projects that demonstrate your skills and expertise.
Screening Questions: Please answer the following screening questions when applying:
Are you currently legally able to work in Canada?
Are you willing to relocate for this position?
Do you have previous experience in this field of employment?
Equal Employment Opportunities:
Heck's Enterprises Ltd promotes equal employment opportunities for all job applicants, regardless of their background. We encourage applications from Indigenous people, newcomers to Canada, veterans, visible minorities, and youth. We believe in fostering diversity and inclusivity within our team.
Who Can Apply:
Only individuals who meet the following criteria are eligible to apply:
Canadian citizens, permanent residents of Canada, or temporary residents with a valid Canadian work permit.
If you are not authorized to work in Canada, please refrain from applying, as we will be unable to respond to your application.
Conclusion: This exciting Farm Labourer vacancy at Heck's Enterprises Ltd offers a fantastic opportunity to work in the agricultural industry, contribute to the growth of our organization, and develop your skills and knowledge. Join us in Sceptre, SK, and embark on a fulfilling career journey as part of our dynamic team. Apply today.