Are you passionate about agriculture, the environment, and making a positive impact? Look no further! ASLE Technologies Group (ATG) is currently seeking an experienced and dedicated Agronomist to join our team.
With a focus on promoting sustainability and supporting the green economy, this is not just a job, but an opportunity to contribute to a better future. If you have a Bachelor's degree in Agronomy or related fields, along with 3-5 years of experience, this could be the perfect fit for you. Join us in Saskatoon, SK, and let's cultivate a greener world together!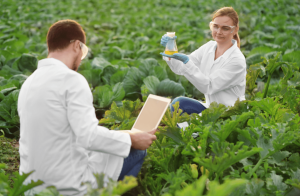 Job Details
ATG is offering a permanent, full-time position for a skilled Agronomist. With working hours ranging from 30 to 40 hours per week, this position provides flexibility and stability. The starting pay rate is $28.00 to $31.25 hourly, which can be negotiated based on your qualifications and experience.
As an Agronomist at ATG, your primary responsibility will be to provide expert advice and support to farmers and other agricultural stakeholders. You'll have the opportunity to make a real difference by implementing strategies that lead to positive environmental outcomes. By offering guidance on crop science, soil management, and sustainable farming practices, you'll help enhance agricultural productivity while minimizing the ecological footprint.
Your work setting will be diverse, allowing you to engage with farmers and groups in various locations. ATG is open to candidates willing to relocate to Saskatoon, SK, and the surrounding areas to ensure we can reach as many farming communities as possible.
Key Responsibilities
In this role, you'll utilize your expertise in agronomy and crop science to carry out a range of tasks. Your responsibilities will include:
Maintaining records: Accurate record-keeping is crucial to track the services provided and the impact of your advice. By documenting the outcomes, you'll contribute to the continuous improvement of our practices and help farmers monitor their progress effectively.
Advisory information sessions: You'll prepare and conduct informative sessions and lectures, both in-person and remotely, to educate farmers and other interested groups about the latest advancements in sustainable agriculture. Through these engagements, you'll inspire and empower individuals to adopt environmentally friendly farming techniques.
Counselling services: Farmers often face challenges in areas such as agribusiness, farm management, field crops, horticulture, plant science, and soil science. As an Agronomist, you'll provide personalized counselling services, addressing their concerns and offering tailored solutions to optimize crop growth and development.
Qualifications and Skills
To excel in this role, you should possess the following qualifications and skills:
Education: A Bachelor's degree in Agronomy or equivalent experience in related fields such as soil science and plant nutrition is required. Your academic background will provide a solid foundation for understanding the complexities of crop production and sustainable farming practices.
Experience: You should have a minimum of 3 years to less than 5 years of experience in a similar agronomy-related position. This experience will demonstrate your ability to apply theoretical knowledge in practical settings and deliver effective solutions to farming challenges.
Certifications and Memberships: Membership in a provincial institute of agrology and certification from the Certified Crop Advisor (CCA) Program are highly desirable. These credentials indicate your commitment to ongoing professional development and adherence to industry standards.
Work Environment and Benefits
As an Agronomist at ATG, you can expect a fast-paced work environment with tight deadlines. Attention to detail, the ability to distinguish between colors, and physical stamina will be required. The role will involve a combination of sitting, standing, walking, as well as bending, crouching, and kneeling.
ATG values its employees and offers a comprehensive benefits package, including health care, dental, vision, and paramedical services coverage. Long-term benefits such as group insurance, life insurance, long-term care insurance, pension plans, and a Registered Retirement Savings Plan (RRSP) are also provided.
How to Apply
To apply for this exciting Agronomist vacancy at ASLE Technologies Group, please send your application via EMAIL
Your application should include a cover letter, references attesting to your experience, a letter of recommendation, proof of requested certifications, and relevant work examples from your portfolio. Please ensure you address the screening questions listed in the job posting.
At ATG, we promote equal employment opportunities and encourage applications from all individuals, including those who identify as Indigenous people, newcomers to Canada, veterans, visible minorities, and youth. However, please note that only Canadian citizens, permanent residents, and temporary residents with a valid Canadian work permit will be considered for this position.