Are you a caring individual with a passion for nurturing children and creating a safe, loving environment for them to grow? Look no further! Marlie Nelly Rousso is thrilled to announce a fantastic job opportunity as a nanny at her Beaconsfield, QC residence. This engaging position offers excellent benefits, including health coverage, financial perks, and more. If you're ready to embark on an exciting journey, working full-time and assuming responsibility for a household while caring for children, read on to learn more!
Job Details: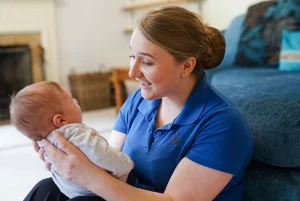 Position: Nanny
Working Time: 40 hours per week Hourly Rate: $15.25
Employment Terms: Term or contract (ending: 2025-09-15)
Start Date: As soon as possible
Location: Beaconsfield, QC
Vacancies: 1
Responsibilities:
As a nanny with Marlie Nelly Rousso's family, you will play a vital role in ensuring the well-being and development of the children. Here are some of the exciting tasks you'll be responsible for:
Assumption of Household Responsibilities:

Provide comprehensive care for the children in the absence of parents.
Perform light housekeeping and cleaning duties, maintaining a clean and organized environment.
Shop for food and household supplies to ensure a well-stocked home.

Travel and Assistance:

Accompany the family on trips, providing child supervision and support with housekeeping duties.
Assist with bathing, dressing, and feeding infants and children, ensuring their comfort and safety.
Implement disciplinary measures as per the parents' guidelines.
Instruct children in personal hygiene and foster their social development.

Record-Keeping and Maintenance:

Keep detailed records of daily activities and maintain health information related to the children.
Foster a safe and healthy environment within the home, prioritizing the well-being of the children.
Organize engaging activities, games, and outings to enhance the children's growth and development.
Prepare infants and children for rest periods, ensuring they have a peaceful sleep routine.
Sterilize bottles, prepare formulas, and change diapers for infants.

Child Supervision and Transportation:

Supervise and care for the children, ensuring their safety at all times.
Safely transport children to and from school, as well as to appointments.
Tend to the emotional well-being of the children, offering support and compassion.
Requirements:
To qualify for this rewarding position, candidates should meet the following requirements:
Languages:

Fluency in English or French is essential for effective communication.

Education:

Possession of a secondary (high) school graduation certificate is required.

Experience:

Previous experience of 1 to 2 years in a similar role is preferred.

Work Environment:

The work site is non-smoking and scent-free, ensuring a healthy environment for everyone.

Personal Suitability:

As a nanny, you must be client-focused, displaying efficient interpersonal and communication skills.
Excellent written and oral communication skills are essential to effectively interact with parents and children.
Flexibility, good judgment, and organizational abilities are key qualities that make a successful nanny.
Being a team player is crucial to collaborate harmoniously within the household.
How to Apply:
If you are interested in joining our compassionate family and providing exceptional care to our children, please apply via EMAIL. In your application, kindly include the following:
References attesting to your experience.
Answer the following screening questions:

Are you currently legally able to work in Canada?
Do you have previous experience in this field of employment?
Please Note:
Marlie Nelly Rousso values diversity and encourages applications from individuals of all backgrounds. We promote equal employment opportunities for job applicants who self-identify as Indigenous people, newcomers to Canada, veterans, visible minorities, and youth.
Who Can Apply:
To apply for this extraordinary opportunity, please ensure that you meet the following criteria:
You are a Canadian citizen, a permanent resident of Canada, or hold a valid Canadian work permit.
If you are not authorized to work in Canada, kindly refrain from applying, as the employer will not respond to such applications.
Conclusion:
Join Marlie Nelly Rousso's warm and welcoming family as a dedicated nanny, providing exceptional care and support to her children. This rewarding position offers a competitive hourly rate, full-time employment, and a host of benefits. If you are ready to embark on a fulfilling journey where you can make a significant impact on young lives, don't miss this exciting opportunity.