Are you seeking a rewarding opportunity to join a dynamic and professional team? Look no further! Save The Stress Cleaning Services Limited is currently hiring for 10 enthusiastic and dedicated Cleaning Man/Woman positions at our Estevan, SK location.
This engaging role offers a permanent, full-time employment with a competitive hourly rate ranging from $14.00 to $17.00 (to be negotiated), providing you with a stable and fulfilling career. If you have a passion for cleanliness, enjoy working as part of a team, and value the benefits of health and long-term security, this could be the perfect fit for you.
Job Description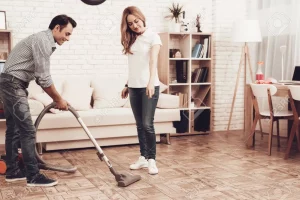 As a Cleaning Man/Woman, you will play a vital role in maintaining the cleanliness and hygiene of various areas within our organization. While no formal education is required, any previous experience in a similar position will be considered an asset.
Your primary tasks will include sweeping, mopping, scrubbing, and waxing hallways, floors, and stairs, as well as operating industrial vacuum cleaners to remove debris and refuse. Additionally, you will be responsible for emptying trash cans and waste containers, washing windows, interior walls, and ceilings, and performing safety and security checks.
Personal Suitability
To excel in this role, we are seeking individuals who possess the following personal qualities:
Client Focus: Demonstrating a strong commitment to meeting and exceeding client expectations.
Flexibility: Adapting to changing work schedules and responsibilities as required.
Organized: Maintaining a systematic and efficient approach to cleaning tasks.
Team Player: Collaborating effectively with colleagues to ensure a clean and safe environment for all.
Benefits
Save The Stress Cleaning Services Limited recognizes the importance of employee well-being and offers a comprehensive range of benefits. Upon joining our team, you will have access to the following:
Health Benefits
Dental Plan: Comprehensive coverage for dental care.
Disability Benefits: Financial protection in the event of a disability.
Health Care Plan: Coverage for medical expenses.
Paramedical Services Coverage: Reimbursement for services such as physiotherapy or massage therapy.
Vision Care Benefits: Assistance for vision-related expenses.
Long-Term Benefits
Group Insurance Benefits: Additional insurance coverage for you and your dependents.
Long-Term Care Insurance: Financial protection for long-term care needs.
Other Benefits
Free Parking Available: Convenient and cost-free parking options.
Learning/Training Paid by Employer: Opportunities for professional growth with training expenses covered by the company.
Parking Available: Adequate parking facilities for employees.
Variable or Compressed Work Week: Flexible work schedules to accommodate personal needs.
Wellness Program: Initiatives and resources to promote a healthy and balanced lifestyle.
How to Apply
We offer various methods to apply for this exciting opportunity:
Online: Visit our website at http://www.savethestress.ca and follow the application instructions provided.
By Email: Send your application, along with the job reference number (STS0113), to this email
By Mail: Send your application, including the job reference number (STS0113), to the following address: 454 Brooks Road, Estevan, SK, S4A 2N6.
In Person: Drop off your application, with the job reference number (STS0113), at 230 5th Street, Estevan, SK, S4A 0X8, between 09:00 AM and 02:00 PM.
Application Requirements
To ensure a smooth application process, please include the following information:
Job Reference Number: STS0113

Are you available for shift or on-call work?
Are you available for the advertised start date?
Are you currently legally able to work in Canada?
Are you willing to relocate for this position?
Do you currently reside in proximity to the advertised location?
Do you have previous experience in this field of employment?Screening Questions: Kindly provide your responses to the following screening questions:
Who Can Apply
This exciting opportunity is open to individuals who meet the following criteria:
Canadian Citizens, Permanent Residents, or Temporary Residents of Canada.
Holders of a valid Canadian work permit.
Please note that if you are not authorized to work in Canada, we kindly request that you refrain from applying, as the employer will not be able to respond to your application.
Conclusion
In conclusion, Save The Stress Cleaning Services Limited is thrilled to offer you the chance to join our team as a Cleaning Man/Woman. This position provides a fulfilling and stable career with competitive hourly rates and various benefits, including health coverage, long-term insurance, and additional perks like free parking and a wellness program.
To apply, you can choose from multiple convenient options, including applying online, emailing your application, mailing it, or dropping it off in person. Remember to include the job reference number (STS0113) and provide detailed responses to the screening questions.
Don't miss out on this incredible opportunity to contribute to a clean and safe environment while enjoying the benefits of a supportive workplace. Apply today and take the first step towards a rewarding career with Save The Stress Cleaning Services Limited.