Are you looking for a fulfilling career opportunity in the vibrant town of Athabasca, Alberta? Look no further! 1704455 Alberta Ltd is excited to announce the availability of two vacancies for Light Duty Cleaners.
If you are detail-oriented, organized, and enjoy working as part of a team, this could be the perfect opportunity for you. Join us in maintaining cleanliness and creating a pleasant environment for our valued clients. Read on to discover more about this engaging and rewarding position.
Job Details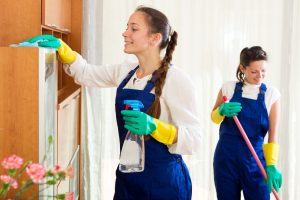 Position: Light Duty Cleaner
Company: 1704455 Alberta Ltd
Location: 4924 50 Street, Athabasca, AB, T9S 1N1
Working Time: $18.00 hourly / 35 hours per week
Terms of Employment: Permanent employment/Full time
Start Date: Starts as soon as possible
Benefits: Other benefits
Vacancies: 2 vacancies
Job Description
As a Light Duty Cleaner, you will play a vital role in ensuring the cleanliness and hygiene of our establishment. While no degree, certificate, or diploma is required, we provide comprehensive training to all selected candidates.
You will be responsible for a variety of tasks to maintain a clean and organized environment for our clients and staff. Some of the key responsibilities include:
Sweeping, mopping, washing, and polishing floors to ensure they are clean and presentable.
Dusting furniture to remove any dirt or debris, creating a fresh and welcoming atmosphere.
Vacuuming carpets, area rugs, draperies, and upholstered furniture to eliminate dust and allergens.
Making beds and changing sheets to ensure a comfortable and tidy experience for our guests.
Distributing clean towels and toiletries, ensuring our clients have everything they need.
Disinfecting operating rooms and other areas to maintain a sterile and safe environment.
Picking up debris and emptying trash containers regularly, promoting cleanliness and orderliness.
Washing windows, walls, and ceilings to maintain a spotless appearance throughout the facility.
Work Conditions and Physical Capabilities
Attention to detail is crucial in this role as it helps us maintain our high standards of cleanliness. As a Light Duty Cleaner, you will experience a combination of sitting, standing, and walking throughout your shifts. This dynamic work environment ensures you stay active while contributing to a positive and inviting atmosphere.
Personal Suitability: In addition to the job responsibilities, personal qualities are also important to us. We value individuals who are client-focused, flexible, organized, and thrive in a team environment. Your dedication to providing exceptional service and your ability to adapt to changing situations will contribute to your success as a Light Duty Cleaner.
Application Process
Applying for this exciting opportunity is quick and easy. To submit your application, you have two options:
By Email: Send your resume and cover letter to this email. Make sure to mention the position you are applying for in the subject line.
By Mail: Address your application to 4924 50 Street, Athabasca, AB, T9S 1N1. Please include your resume and a brief cover letter outlining your interest in the Light Duty Cleaner position.
Equal Employment Opportunities
At 1704455 Alberta Ltd, we strongly believe in equal employment opportunities. We encourage individuals from diverse backgrounds to apply, including Indigenous people, newcomers to Canada, veterans, visible minorities, and youth. We value the unique perspectives and contributions that individuals from these groups bring to our team.
Who Can Apply
To be eligible for this job, please ensure you meet the following criteria:
You are a Canadian citizen, a permanent resident of Canada, or a temporary resident with a valid Canadian work permit. Proof of eligibility may be required during the application process.
We kindly request that individuals who are not authorized to work in Canada refrain from applying for this position. Unfortunately, the employer will not be able to respond to applications from candidates who do not meet the above requirements.
Training and Development
Even if you have no prior experience as a Light Duty Cleaner, there's no need to worry. At 1704455 Alberta Ltd, we provide comprehensive training to all selected candidates. We want you to feel confident and prepared as you embark on your new role. Our training program covers various aspects of cleaning procedures, safety protocols, and our specific standards to ensure that you deliver exceptional results.
As you settle into your position, ongoing support and guidance will be available to help you enhance your skills and expand your knowledge in the field. We believe in investing in our employees' growth and development, recognizing that it contributes to both personal and professional success.
Conclusion
If you are searching for a rewarding career opportunity as a Light Duty Cleaner, 1704455 Alberta Ltd invites you to apply for our two vacant positions. We offer competitive pay, a supportive work environment, and the chance to make a positive impact by ensuring a clean and welcoming space for our clients.
To apply, please submit your application via email or mail, following the instructions provided above. We welcome applicants who meet the specified criteria, including Canadian citizens, permanent residents, and individuals with valid Canadian work permits.
Take the first step towards a fulfilling and engaging career by applying to join our team as a Light Duty Cleaner at 1704455 Alberta Ltd. We look forward to receiving your application and potentially welcoming you as a valued member of our organization.