Are you an experienced bookkeeper looking for an exciting opportunity to showcase your skills and join a thriving company? Look no further! Regweb Consulting Services Inc is currently seeking two talented individuals to join our team as Senior Bookkeepers.
As a leading consulting firm based in Cornwall, ON, we provide a wide range of financial services to our diverse clientele. In this role, you will play a crucial part in ensuring accurate financial records, maintaining accounts, and preparing reports.
If you have a passion for numbers, attention to detail, and a desire to work in a fast-paced environment, this is the perfect opportunity for you!
Job Details and Responsibilities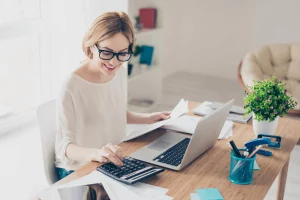 To excel in this role, you will need a solid educational background, excellent bookkeeping skills, and a keen eye for detail. As a Senior Bookkeeper at Regweb Consulting Services Inc, your main responsibilities will include:
Calculating and preparing cheques for payroll: You will ensure that employee payroll is accurately calculated and that the corresponding cheques are prepared promptly and efficiently.
Calculating fixed assets and depreciation: You will handle the calculation of fixed assets and depreciation to ensure accurate recording and reporting.
Maintaining financial records and accounts: Using both manual and computerized bookkeeping systems, you will establish, maintain, and balance various accounts, ensuring their accuracy and integrity.
Managing general ledgers and financial statements: You will be responsible for maintaining general ledgers and preparing financial statements to provide comprehensive insights into the company's financial health.
Posting journal entries: Accurate and timely posting of journal entries will be a crucial part of your day-to-day tasks, ensuring that all financial transactions are properly recorded.
Preparing statistical, financial, and accounting reports: You will compile and analyze data to generate reports that provide valuable insights for decision-making purposes.
Handling tax returns: Your expertise will be required in preparing tax returns, ensuring compliance with relevant regulations and maximizing benefits for the company.
Preparing trial balance of books: You will reconcile and verify the accuracy of accounts by preparing trial balances, allowing for efficient financial analysis.
Reconciling accounts: Regularly reconciling accounts will be part of your responsibilities to ensure accuracy and identify any discrepancies.
Requirements and Qualifications
To thrive in this role, you should meet the following requirements:
Education: A Bachelor's degree in a relevant field will be advantageous, showcasing your knowledge and understanding of financial principles and practices.
Experience: You should possess a minimum of 3 years to less than 5 years of experience as a bookkeeper, demonstrating your expertise in various bookkeeping tasks.
Language: Proficiency in English is essential, as you will be required to communicate effectively with clients and colleagues.
Computer and Technology Skills: Familiarity with accounting software, MS Office Suite (including Access, Excel, Outlook, and Word), QuickBooks, and Simply Accounting will be necessary to perform your duties efficiently.
Personal Attributes: Attention to detail, the ability to thrive in a fast-paced environment, and the capacity to work under pressure are key traits for success in this role. Additionally, being client-focused, flexible, and an organized team player will contribute to your effectiveness as a Senior Bookkeeper.
Benefits and Work Environment
At Regweb Consulting Services Inc, we value our employees and strive to provide a supportive and rewarding work environment. As a Senior Bookkeeper, you can expect the following benefits:
Competitive Compensation: We offer a competitive hourly rate of $27.50, providing fair compensation for your skills and expertise.
Full-Time, Permanent Employment: This position offers stable, full-time employment, providing you with long-term job security and stability.
Other Benefits: In addition to a competitive salary, we provide a comprehensive benefits package, which includes health insurance, retirement plans, and other perks to support your overall well-being.
Professional Growth Opportunities: We believe in fostering the professional growth and development of our employees. As a Senior Bookkeeper, you will have access to ongoing training and advancement opportunities to enhance your skills and expand your career horizons.
Collaborative Team Environment: You will be joining a dynamic and collaborative team of financial professionals who are passionate about their work. Our supportive work environment encourages knowledge-sharing, teamwork, and mutual growth.
Application Requirements and Equal Employment Opportunity
Regweb Consulting Services Inc is an equal opportunity employer, committed to diversity and inclusivity. We encourage applicants from all backgrounds to apply, including individuals who self-identify as Indigenous people, newcomers to Canada, veterans, visible minorities, and youth.
To be eligible for this position, please ensure you meet the following requirements:
Canadian Citizenship or Work Permit: You must be a Canadian citizen, a permanent resident, or hold a valid Canadian work permit.
Authorized to Work in Canada: If you are not authorized to work in Canada, we kindly request that you do not apply for this position, as we are unable to consider applicants who do not meet this requirement.
How to Apply
To apply for the Senior Bookkeeper vacancy at Regweb Consulting Services Inc, please follow the instructions below:
Step 1: Prepare your application materials, including the following documents:
Job reference number: Make sure to include the reference number "122000" in your application to ensure it is properly identified.
Cover letter: Craft a compelling cover letter that highlights your relevant experience, skills, and enthusiasm for the position.
Writing sample: Include a writing sample that showcases your ability to communicate effectively and demonstrates your knowledge in the field of bookkeeping.
Step 2: Answer the screening questions: As part of the application process, we kindly request that you answer the following screening questions:
Are you available for shift or on-call work?
Are you available for the advertised start date?
Are you currently legally able to work in Canada?
What is the highest level of study you have completed?
Step 3: Submit your application: Once you have prepared all the necessary documents and answered the screening questions, please send your application via email. Be sure to attach your documents in a professional format, such as PDF or Word files, and clearly indicate the job reference number "122000" in the subject line or body of the email.
We appreciate your interest in joining our team at Regweb Consulting Services Inc. Only selected candidates will be contacted for further consideration. Thank you for considering us as your next career opportunity!
Conclusion
In conclusion, the Senior Bookkeeper vacancy at Regweb Consulting Services Inc offers an exciting opportunity for experienced professionals seeking a fulfilling career in the field of finance. With a competitive compensation package, comprehensive benefits, and a supportive work environment, this role provides the ideal platform for your professional growth and success.
If you meet the eligibility criteria and are ready to join a dynamic team of financial experts, we invite you to submit your application today. Take the first step toward a rewarding career as a Senior Bookkeeper at Regweb Consulting Services Inc. Apply now!