Are you passionate about Japanese cuisine and skilled in the art of sushi preparation? IMMANUEL.FOODLTD, a leading culinary establishment, is thrilled to announce four exciting vacancies for Sushi Chefs. As an industry leader in the food service sector, we pride ourselves on delivering exceptional dining experiences and offering a dynamic work environment. Join our team and embark on a fulfilling culinary journey while showcasing your talents and creativity.
Discover the benefits of working with us, the diverse tasks involved, and the qualifications we are seeking. Get ready to immerse yourself in the world of Japanese cuisine and become an integral part of our successful team!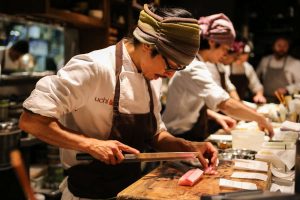 Job Details:
Position: Sushi Chef
Salary: $15.50 to $17.00 per hour (to be negotiated)
Working Hours: Full-time, 30 to 40 hours per week
Terms of Employment: Permanent employment
Start Date: Immediate openings
Location: Multiple Locations
Job Description:
As a Sushi Chef at IMMANUEL.FOODLTD, you will play a vital role in ensuring the delivery of exceptional culinary experiences to our valued customers. While previous experience is not required, a passion for Japanese cuisine and a willingness to learn are essential. Your main responsibilities will include:
Food Preparation and Cooking:

Prepare and cook complete meals and specialty foods for banquets and events.
Ensure that meals and specialty dishes are prepared according to established quality standards.
Follow traditional sushi preparation techniques to deliver exquisite sushi creations.
Showcase expertise in Japanese cuisine, bringing authenticity and innovation to our menu.
Adhere to food safety and hygiene standards, maintaining a clean and organized work environment.

Inventory Management and Cost Analysis:

Maintain accurate records of food costs, consumption, sales, and inventory.
Analyze operating costs and other relevant data to optimize efficiency and profitability.
Estimate food requirements and labor costs to streamline operations.
Requisition food and kitchen supplies, ensuring timely availability and minimizing waste.
Collaborate with the central food commissary for efficient distribution of supplies.

Menu Planning and Quality Control:

Plan menus that incorporate a variety of sushi and Japanese culinary specialties.
Ensure that all food offerings meet our high-quality standards and customer expectations.
Continuously innovate and introduce new dishes while respecting traditional Japanese flavors.
Collaborate with the team to refine and enhance our culinary offerings.

Equipment and Supplies:

Arrange for the purchase and repair of necessary equipment.
Coordinate with suppliers to maintain a consistent supply of high-quality ingredients.
Stay updated with the latest trends and advancements in sushi preparation techniques.
Qualifications and Skills:
To excel in this role, we are looking for individuals who possess the following qualifications and skills:
Education: Secondary (high) school graduation certificate.
Language: Proficiency in English.
Experience: While previous experience is not required, a passion for Japanese cuisine is essential.
Physical Capabilities: Ability to work under pressure, handle heavy loads, and stand for extended periods.
Attention to Detail: Meticulousness and precision in sushi preparation and food presentation.
Personal Suitability: Dependability, efficient interpersonal skills, excellent oral communication, flexibility, initiative, organization, reliability, and being a team player.
How to Apply:
If you are a Canadian citizen, permanent or temporary resident of Canada, and hold a valid Canadian work permit, we welcome your application. To apply, please follow these instructions:
Send an email to this EMAIL with the subject line "Sushi Chef Application."
Include proof of the requested certifications and a copy of your portfolio or relevant work examples.
IMMANUEL.FOODLTD is an equal opportunity employer, fostering diversity and inclusivity in our workplace. We encourage job applications from individuals who identify as Indigenous people, Newcomers to Canada, Veterans, Visible minorities, and Youth. Please note that only candidates authorized to work in Canada will receive a response to their application.
Conclusion:
Embark on an exciting culinary journey as a Sushi Chef at IMMANUEL.FOODLTD. Join our team and contribute to delivering exceptional dining experiences rooted in the art of Japanese cuisine. With a supportive work environment and numerous benefits, including health benefits, financial rewards, and other perks, we are committed to your professional growth and job satisfaction. Apply today and showcase your talent, passion, and dedication to the art of sushi preparation!