Are you passionate about the art of cooking and have a special love for pizzas? Look no further, because Cosmic Pizza Alberta Ltd. is offering an incredible opportunity for talented individuals to join their team as a Pizza Cook. This engaging role provides a chance to showcase your culinary skills and create mouthwatering pizzas that will delight customers in the beautiful city of Wetaskiwin, AB. Read on to learn more about this exciting job opening and how you can become a part of the Cosmic Pizza family.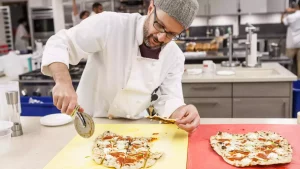 Job Details:
Position: Pizza Cook
Working Time: 35 hours per week, offering an hourly rate of $16.50
Employment Terms: Full-time, permanent
Start Date: As soon as possible
Vacancies: 1
Responsibilities:
As a Pizza Cook at Cosmic Pizza Alberta Ltd., you will be responsible for preparing and cooking delicious and satisfying meals for our customers. Your duties will include:
Creating Culinary Masterpieces: You will prepare and cook complete meals, crafting pizzas that tantalize taste buds and leave a lasting impression. Using your expertise, you will ensure every pizza is made to perfection, using fresh ingredients and following our signature recipes.
Kitchen Supervision: Alongside your fellow kitchen staff and helpers, you will supervise the kitchen operations, ensuring a smooth and efficient workflow. Your experience and guidance will contribute to maintaining a positive work environment, where teamwork and creativity thrive.
Inventory and Records Management: A crucial part of your role will involve managing the inventory of food, supplies, and equipment. Keeping accurate records will help us maintain a well-stocked kitchen and ensure smooth operations.
Qualifications:
To be considered for this exciting opportunity, the following qualifications are required:
Language Proficiency: Proficiency in English is necessary to effectively communicate and collaborate with the Cosmic Pizza team.
Education: A secondary (high) school graduation certificate is required to demonstrate a basic level of education.
Experience: Ideally, candidates should possess at least 1 to 2 years of experience as a cook, with a focus on preparing various dishes and meals. Prior experience as a pizza cook is a definite plus.
How to Apply:
If you are excited about joining the Cosmic Pizza family and meet the necessary requirements, we invite you to apply for this position. The application process is simple and can be completed through email. Please send your detailed resume and cover letter to this EMAIL.
Equal Employment Opportunities: At Cosmic Pizza Alberta Ltd., we are committed to providing equal employment opportunities to all job applicants. We value diversity and inclusion and welcome applications from individuals belonging to the following groups:
Indigenous people
Newcomers to Canada
Veterans
Visible minorities
Youth
Who Can Apply:
To ensure compliance with employment regulations, we kindly request that only candidates who meet the following criteria apply for this job:
Canadian Citizens or Permanent Residents: You must be a Canadian citizen, a permanent resident of Canada, or hold a valid Canadian work permit to be eligible for this position.
Work Permit Authorization: If you are not authorized to work in Canada, we kindly request that you refrain from applying. Unfortunately, the employer will be unable to respond to applications that do not meet the work authorization requirements.
Conclusion:
Don't miss out on this incredible opportunity to unleash your culinary talents as a Pizza Cook at Cosmic Pizza Alberta Ltd. With a competitive salary, health benefits, and a supportive work environment, this role promises a fulfilling and rewarding career. Take the first step towards joining our team by submitting your application today