Are you a talented hairstylist with a passion for transforming hair and making clients feel fabulous? ColorVibes Salon & Spa Ltd, located in the heart of Edmonton, AB, is thrilled to announce two exciting vacancies for skilled hairstylists like you!
With a competitive hourly rate of $21.00, along with attractive benefits and a permanent, full-time position, this opportunity promises to be a rewarding and fulfilling career move. If you're ready to unleash your creativity, build lasting client relationships, and work in a vibrant salon environment, read on to discover how you can join our team!
Job Description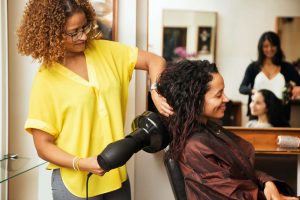 As a hairstylist at ColorVibes Salon & Spa Ltd, you will be responsible for providing a range of hair services to our valued clientele. Your tasks will include:
Shampooing customers' hair: Create a luxurious and relaxing experience for our clients by providing gentle and invigorating shampoos that leave their hair feeling refreshed and revitalized.
Hair treatments: Showcase your expertise by offering a variety of hair treatments such as waving, straightening, tinting, and scalp conditioning massages. Tailor your approach to each client's unique needs, ensuring optimal results and customer satisfaction.
Hair analysis and advice: Assess the condition of clients' hair and scalp, and provide professional recommendations for suitable beauty care treatments. Your expert advice will empower clients to maintain healthy and vibrant hair.
Hair coloring and styling: Showcase your artistic flair by applying bleach, tints, dyes, or rinses to color, frost, or streak hair. Additionally, demonstrate your skills in hair extensions, wig and hairpiece cleaning and styling, and cutting, trimming, curling, perming, and styling hair according to clients' preferences and instructions.
Hair Styling Techniques
At ColorVibes Salon & Spa Ltd, we appreciate the artistry and creativity of hairstyling. You'll have the opportunity to showcase your expertise in various techniques, including:
Blow drying: Achieve flawless and voluminous hairstyles by utilizing professional blow-drying techniques.
Hair braiding: Create intricate and stylish braids that enhance the beauty of our clients' hair.
Iron waving/curling: Utilize modern tools to achieve glamorous waves or curls, adding texture and depth to clients' hair.
Permanents: Provide clients with long-lasting curls or waves using advanced permanent techniques.
Extensions: Skillfully apply hair extensions to add length, volume, and versatility to clients' hairstyles.
Twisting, locking, and relaxing: Offer unique and specialized hairstyling techniques, catering to clients with textured hair.
Spiking and pin curls: Perfect for clients looking for edgy and dramatic styles, showcase your skills in creating bold and eye-catching looks.
Roller setting: Utilize classic roller setting techniques to achieve elegant and timeless hairstyles.
Hair Coloring Techniques
As a skilled hairstylist, you'll have the opportunity to showcase your expertise in various hair coloring techniques, including:
Bleaching: Create stunning transformations by lightening hair for a dramatic or subtle effect.
Dyes/tints: Offer vibrant and personalized hair colors using high-quality dyes and tints.
Frosting: Add depth and dimension to hair by incorporating highlights or lowlights.
Streaking/highlights: Create eye-catching and natural-looking streaks or highlights to enhance clients' overall style.
Work Conditions and Requirements
At ColorVibes Salon & Spa Ltd, we value professionalism and attention to detail. To excel in this role, you should possess the following qualities:
Hand-eye coordination: Showcasing your ability to coordinate your hands and eyes effectively is crucial for creating precise and polished hairstyles.
Ability to stand for extended periods: As a hairstylist, you'll spend a significant amount of time on your feet, attending to clients' needs. Therefore, having the physical stamina to stand for extended periods is essential.
Punctuality: We value punctuality at ColorVibes Salon & Spa Ltd. Arriving on time for scheduled appointments ensures a smooth workflow and maintains excellent customer service.
Client focus: Our clients' satisfaction is our top priority. By providing exceptional service and catering to their individual needs, you'll contribute to a positive and memorable experience for every client.
Dependability: Being reliable and consistent in your work is key. We count on our hairstylists to show up on time and deliver consistent quality in their services, building trust with both the salon and our clients.
Efficient interpersonal skills: Strong communication and interpersonal skills are vital for establishing rapport with clients, understanding their desires, and ensuring effective consultations.
Excellent oral and written communication: Clear and effective communication is crucial for understanding and implementing clients' requests accurately. Additionally, excellent written communication skills are important for maintaining client records and documenting specific procedures.
Flexibility: Adaptability and a willingness to accommodate clients' needs, even in dynamic and fast-paced salon environments, are qualities we value in our hairstylists.
Initiative: Taking the initiative to stay updated on the latest trends, techniques, and products in the hairstyling industry shows your dedication to professional growth and providing the best service to clients.
Interpersonal awareness: Being attentive to clients' non-verbal cues and responding empathetically to their preferences and concerns allows you to create a comfortable and enjoyable salon experience.
Judgment: Displaying good judgment and decision-making skills ensures that you can recommend appropriate hairstyles that enhance clients' physical features and align with their personal style.
Organization: Maintaining a well-organized workstation and managing your time effectively contribute to a smooth workflow and the ability to serve more clients efficiently.
Reliability: Consistency and reliability in meeting clients' expectations are essential for building a loyal client base and fostering a positive reputation for ColorVibes Salon & Spa Ltd.
Team player: Collaboration and teamwork are integral to our salon's success. Being a supportive team player and fostering a positive work environment will contribute to the overall salon experience for both colleagues and clients.
Health Benefits
At ColorVibes Salon & Spa Ltd, we believe in taking care of our employees. As a full-time hairstylist, you'll be eligible for a comprehensive benefits package that includes financial benefits and health coverage. We prioritize the well-being of our team members and strive to provide a supportive and rewarding work environment.
How to Apply: If you're excited about this incredible hairstylist opportunity at ColorVibes Salon & Spa Ltd, we invite you to apply today! To submit your application, please follow these steps:
Prepare a cover letter: Introduce yourself and highlight your relevant experience and skills as a hairstylist. Let us know why you're interested in joining our team and how you can contribute to our salon's success.
Include references: Provide references that can attest to your hairstyling experience. These references will help us understand your capabilities and professionalism.
Submit proof of required certifications: Include copies or proof of any certifications or qualifications mentioned in the job posting. This will demonstrate your commitment to maintaining high standards in the hairstyling industry.
To apply, please send your application, including the cover letter, references, and proof of certifications, to this EMAIL. Please ensure that all required documents are attached in a single email.
Screening Questions
To help us assess your suitability for the position, we have included a few screening questions. Please answer the following questions in your application:
Are you available for shift or on-call work? As a hairstylist, flexibility in scheduling is essential to accommodate our clients' needs. Please let us know your availability for different shifts or on-call work.
Are you available for the advertised start date? We are looking for hairstylists who can join our team as soon as possible. Please confirm your availability to start work at ColorVibes Salon & Spa Ltd according to the posted start date.
Are you currently legally able to work in Canada? Eligibility to work legally in Canada is a requirement for this position. Please indicate your current work authorization status.
Do you have the above-indicated required certifications? As mentioned in the job description, specific certifications are required to ensure the highest quality of service for our clients. Please confirm if you possess the necessary certifications or qualifications mentioned in the posting.
Who Can Apply
Please note that only candidates who meet the following criteria should apply for this job:
You are a Canadian citizen, a permanent resident of Canada, or hold a valid Canadian work permit.
If you are not authorized to work in Canada, please refrain from applying, as we are unable to consider candidates without the proper work authorization.
Conclusion
ColorVibes Salon & Spa Ltd offers an exciting opportunity for passionate and skilled hairstylists to join our creative team. With a competitive hourly rate, attractive benefits, and a permanent, full-time position, this role promises growth, fulfillment, and the chance to showcase your talent in a vibrant salon environment.
If you're a dedicated hairstylist with a flair for creativity and a commitment to delivering exceptional customer service, we invite you to apply today. Join us at ColorVibes Salon & Spa Ltd and embark on an exciting journey in the world of hairstyling!