Are you a passionate individual with a flair for managing a dynamic bar environment? Look no further! Beauties, a premier establishment located at 449 Baker St, Nelson, BC, V1L 4H7, is thrilled to announce two exciting vacancies for the position of Bar Manager.
We are seeking a dedicated and experienced professional who can bring their expertise and leadership skills to our team. With competitive pay at $26.44 hourly for a full-time permanent position, this is an incredible opportunity to showcase your talent in a fast-paced, rural setting. Join us and be part of an extraordinary bar experience!
Job Description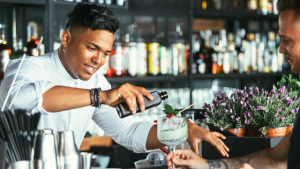 As the Bar Manager at Beauties, you will play a pivotal role in planning, organizing, and directing daily operations to ensure a seamless customer experience. Your primary responsibilities will include:
Operational Excellence:
Plan, organize, and evaluate the daily operations of the bar.
Implement effective operational procedures and determine the type of services to be offered.
Balance cash, prepare balance sheets, cash reports, and other related forms.
Monitor revenues, modify procedures and prices, and maintain inventory.
Team Management and Customer Service:
Recruit, train, and supervise staff to deliver exceptional customer service.
Set work schedules and monitor staff performance.
Address customer complaints or concerns promptly and professionally.
Provide product knowledge and inform customers about the contents of cocktails and other drinks.
Financial Management:
Cost products and services to ensure profitability.
Enforce provincial/territorial liquor legislation and regulations.
Develop, implement, and analyze budgets.
Participate in marketing plans and their successful implementation.
Supplier Relations and Negotiations:
Negotiate arrangements with suppliers for food and other supplies.
Collaborate with clients to cater to their needs or facilitate the use of our facilities.
Qualifications: To excel in this role, the ideal candidate should possess the following qualifications:
Education: Secondary (high) school graduation certificate.
Experience: 5 years or more in a similar position.
Language: Proficient in English.
Skills and Competencies
As an exceptional Bar Manager, you should demonstrate the following skills and competencies:
Strong interpersonal skills and the ability to work well within a team.
Excellent oral and written communication skills.
Attention to detail and ability to handle multiple tasks under tight deadlines.
Efficient organizational and time management abilities.
Flexibility, initiative, and interpersonal awareness.
Sound judgement and reliability.
Computer and Technology Knowledge: Proficiency in electronic cash registers, MS Excel, MS Word, and point-of-sale systems.
Equipment and Machinery Experience: Deep fryer operation.
Work Environment and Benefits
Working at Beauties offers an exciting and fast-paced environment with the following benefits:
Full-time, permanent employment with 30 to 40 hours per week.
Competitive hourly rate of $26.44.
Comprehensive health benefits package.
Long-term benefits, including group insurance benefits and long-term care insurance.
Opportunities for career growth and advancement.
How to Apply
Join our team of dedicated professionals at Beauties by following these application instructions:
Email your application to this EMAIL.
Include the following in your application:

A cover letter expressing your interest in the Bar Manager position.
References attesting to your experience.
Proof of the required certifications.

Answer the screening questions included in the job posting:

Are you available for shift or on-call work?
Are you available for the advertised start date?
Are you currently legally able to work in Canada?
Do you have the required certifications mentioned above?
Who Can Apply: Please note that only apply to this job if you meet the following criteria:
You are a Canadian citizen, a permanent resident of Canada, or hold a valid Canadian work permit.
You possess the required certifications mentioned in the job posting.
Important Note
If you do not meet the above criteria and are not authorized to work in Canada, we kindly request that you refrain from applying for this position. Regrettably, the employer will not be able to respond to applications that do not meet the specified requirements.
Join the Beauties Team Today! At Beauties, we believe in fostering a positive and inclusive work environment that values teamwork, excellence, and customer satisfaction. As a Bar Manager, you will have the opportunity to showcase your skills and make a lasting impact on our patrons' experiences. With our competitive compensation, comprehensive benefits, and long-term career growth opportunities, this is a role you won't want to miss.
Apply now and take the first step towards an exciting and rewarding career as a Bar Manager at Beauties. We look forward to reviewing your application and meeting talented individuals who are passionate about delivering exceptional service. Don't wait – submit your application today and embark on a thrilling journey in the hospitality industry!