Are you passionate about helping individuals maximize their independence and improve their quality of life? The Good Samaritan Society is thrilled to announce two vacancies for Occupational Therapists (OTs) at our esteemed organization. As a dedicated OT, you will have the opportunity to make a profound impact on the lives of our residents, promoting health, well-being, and functional independence. If you possess the required skills and certifications, we invite you to join our compassionate team in Edmonton, AB.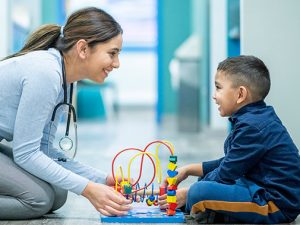 Job Details:
Position: Occupational Therapist (OT)
Location: 4225 – 107 Street, Edmonton, AB, T6J 2P1
Working Time: $37.30 to $49.65 hourly (to be negotiated) / 8 to 62 hours bi-weekly
Terms of Employment: Permanent employment, Full-time
Start Date: Starts as soon as possible
Vacancies: 2 vacancies
Benefits: Health benefits, Financial benefits, Other benefits
Job Description:
As an Occupational Therapist at The Good Samaritan Society, you will play a vital role in enhancing the lives of our residents. Your responsibilities will include:
Analyzing Clients' Capabilities and Expectations: Through observation, interviews, and formal assessments, you will carefully analyze our clients' abilities and expectations related to their daily life activities.
Consultation and Health Promotion: You will provide valuable advice and guidance on health promotion programs aimed at preventing disabilities and maximizing independent function in all aspects of life.
Treatment Program Development and Implementation: With your expertise, you will develop and implement effective treatment programs tailored to each individual's needs, ensuring their progress toward their goals.
Treatment Progress Evaluation: Regularly evaluating the progress of our clients' treatment plans, you will make necessary adjustments and modifications to ensure optimal outcomes.
Staff Training and Supervision: As an experienced OT, you will have the opportunity to train and supervise our dedicated staff, fostering a collaborative and supportive team environment.
Requirements:
To be successful in this role, we require the following qualifications and certifications:
Education: Bachelor's degree in Occupational Therapy.
Experience: 1 to 2 years of relevant experience.
Language Proficiency: Fluent in English; knowledge of Chinese is considered an asset.
Work Setting: Previous experience in a hospital, home for the aged, nursing home, rehabilitation center, or special health institution is preferred.
Provincial or Territorial Licensure: Possession of a valid license by provincial or territorial authorities is mandatory.
Security and Safety: Willingness to undergo a tuberculosis test and a criminal record check.
Personal Suitability:
To excel as an OT at The Good Samaritan Society, the following personal attributes are highly valued:
Client Focus: Demonstrating a strong commitment to providing exceptional care and support to our residents.
Efficient Interpersonal Skills: Ability to effectively communicate and collaborate with clients, families, and a diverse team of healthcare professionals.
Excellent Oral Communication: Strong verbal communication skills to convey information and instructions clearly and compassionately.
Flexibility: Adaptability and willingness to embrace changes in a dynamic healthcare environment.
Judgment: Sound decision-making skills to assess situations and implement appropriate interventions.
Organized: Strong organizational skills to manage caseloads effectively and prioritize tasks efficiently.
Reliability: Dependability and commitment to meeting job responsibilities with professionalism.
Team Player: Demonstrated ability to work collaboratively in an interdisciplinary team.
Values and Ethics: Upholding high ethical standards and maintaining confidentiality.
Application Process:
To apply for this exciting opportunity, please choose one of the following options:
By Email: Send your resume and cover letter to this EMAIL
Online: Visit our website and follow the instructions to submit your application.
Please note that this job posting includes screening questions. When applying, kindly answer the following questions:
Are you currently legally able to work in Canada?
Do you possess the required certifications indicated in the job description?
Equal Employment Opportunities:
At The Good Samaritan Society, we embrace diversity and equal employment opportunities for all individuals, including those self-identifying as members of the following groups: Indigenous people, Newcomers to Canada, Veterans, Visible minorities, and Youth. We encourage qualified candidates from these backgrounds to apply.
Who Can Apply?
Please apply only if you meet the following criteria:
You are a Canadian citizen, a permanent resident of Canada, or a temporary resident with a valid Canadian work permit.
If you are not authorized to work in Canada, kindly refrain from applying, as the employer will not respond to applications that do not meet the eligibility criteria.