Are you searching for an exciting opportunity to work in the construction industry? Look no further! T.M. Crest Investments Ltd is currently seeking a dedicated and motivated individual to fill the position of Construction Cleaner.
As a reputable company in Surrey, BC, T.M. Crest Investments Ltd offers a permanent, full-time position with competitive hourly pay, attractive benefits, and a supportive work environment. If you possess a keen eye for detail, take pride in maintaining cleanliness, and thrive in a team-oriented setting, this job might be the perfect fit for you.
Job Details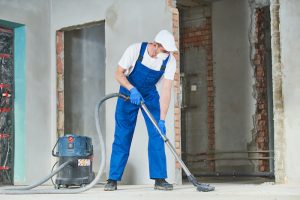 Position: Construction Cleaner
Working Time: $27.50 hourly / 40 hours per week
Terms of Employment: Permanent employment/Full time
Start Date: Starts as soon as possible
Benefits: Other benefits
Vacancies: 1 vacancy
Location: 16484 High Park Ave, Surrey, BC, V3Z 0M1
Job Description
As a Construction Cleaner at T.M. Crest Investments Ltd, you will play a crucial role in ensuring the cleanliness and safety of construction sites. While previous experience is an asset, we welcome candidates who are passionate about the industry and willing to learn. Here are some of the primary tasks associated with this role:
Sweeping, Mopping, Scrubbing, and Waxing: You will be responsible for maintaining the cleanliness and appearance of hallways, floors, and stairs. This includes sweeping, mopping, scrubbing, and waxing as necessary. Your attention to detail will contribute to a safe and pleasant working environment for all.
Operating Industrial Vacuum Cleaners: Using industrial-grade vacuum cleaners, you will efficiently remove scraps, dirt, heavy debris, and other refuse from construction areas. This crucial task helps to ensure a clean and hazard-free workspace.
Waste Management: Emptying trash cans and waste containers is an essential part of maintaining cleanliness and hygiene on construction sites. Your attention to waste management will contribute to a well-organized and efficient work environment.
Window, Wall, and Ceiling Cleaning: Cleaning windows, interior walls, and ceilings will be part of your responsibility. By ensuring these surfaces are clean and free from dust and debris, you will help create a pleasant and professional atmosphere.
Safety and Security Checks: Performing safety and security checks is a critical aspect of this role. You will be expected to identify and report any potential hazards or security breaches promptly. Your vigilance will contribute to the overall safety of the construction site.
Personal Suitability
To excel in this position, you should possess the following personal qualities:
Client Focus: T.M. Crest Investments Ltd values its clients, and maintaining a high level of service is paramount. Your ability to prioritize client satisfaction and meet their expectations will make you a valuable team member.
Flexibility: The construction industry often involves dynamic environments and changing priorities. Your flexibility and adaptability will be essential in handling unexpected situations and meeting project requirements.
Organized: Being organized and efficient in your work will contribute to the smooth operation of the construction site. Attention to detail and a systematic approach will enable you to perform your duties effectively.
Team Player: Collaboration and effective communication are key to success in the construction industry. Your ability to work well within a team, contribute ideas, and support your colleagues will foster a positive and productive work environment.
How to Apply
If you are interested in joining our team as a Construction Cleaner, we encourage you to apply. The application process is simple and can be completed via email. Please send your resume to email. We appreciate all applications, but only candidates who meet the following criteria will be considered:
Canadian Citizenship or a Permanent or Temporary Resident of Canada. 2. Possession of a valid Canadian work permit.
Please note that if you do not meet the above criteria and are not authorized to work in Canada, we kindly request that you refrain from applying. Unfortunately, the employer will not be able to respond to applications that do not meet these requirements.
Diversity and Equal Employment Opportunities
T.M. Crest Investments Ltd is an equal opportunity employer and promotes diversity and inclusivity in the workplace. We strongly encourage individuals from underrepresented groups to apply. We believe in providing equal employment opportunities to all job applicants, including but not limited to Indigenous people, newcomers to Canada, veterans, visible minorities, and youth.
By fostering a diverse and inclusive workforce, we aim to create a supportive and enriching environment that values different perspectives and experiences. We celebrate the unique contributions that individuals from various backgrounds bring to our team, and we are committed to ensuring fair and equitable treatment throughout the hiring process.
Conclusion
If you are seeking a fulfilling career in the construction industry and are passionate about maintaining cleanliness and safety in the workplace, the Construction Cleaner position at T.M. Crest Investments Ltd could be the ideal opportunity for you. With competitive hourly pay, attractive benefits, and a supportive work environment, you will have the chance to contribute to the success of our projects while growing both personally and professionally.
Don't hesitate to take the first step toward an exciting career as a Construction Cleaner.