Are you passionate about dental care and looking for an engaging career as a Certified Dental Assistant? Look no further! Dr. Miekella Okyere INC, a reputable dental practice located in Sechelt, BC, is currently seeking a skilled and motivated individual to join their team.
This permanent full-time position offers a competitive salary, attractive benefits, and a positive work environment. If you have the necessary qualifications and a commitment to patient care, this opportunity could be perfect for you!
Job Details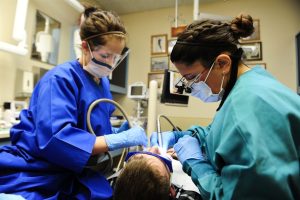 Position: Certified Dental Assistant
Location: Sechelt, BC
Working Time: 36 hours per week
Salary: $60,000 to $70,000 annually (negotiable)
Start Date: As soon as July 7, 2023
Vacancies: 1
Job Responsibilities
As a Certified Dental Assistant at Dr. Miekella Okyere INC, you will play a vital role in assisting the dentist during dental procedures and ensuring optimal patient care. Your tasks will include:
Assisting the dentist during dental procedures, providing chairside support, and ensuring patient comfort.
Taking and developing dental x-rays to assist in diagnosis and treatment planning.
Sterilizing and preparing dental instruments to maintain a safe and hygienic environment.
Preparing dental materials and medications required for various dental procedures.
Taking impressions and making models of teeth for restorative work.
Educating patients on oral hygiene practices and postoperative care instructions.
Managing patient records and scheduling appointments efficiently.
Conducting preliminary dental examinations and assessments.
Performing basic laboratory procedures to aid in dental treatments.
Assisting with dental office administrative tasks to ensure smooth operations.
Maintaining infection control and safety standards at all times.
Monitoring and maintaining dental equipment and supplies for optimal functionality.
Providing patient support and reassurance during procedures.
Collaborating with the dental team to ensure an efficient workflow and exceptional patient care.
Requirements
To be considered for this position, candidates should meet the following criteria:
Language: Proficiency in English is required.
Education: Possession of a Registered Apprenticeship certificate or equivalent experience.
Experience: Prior experience in the field is considered an asset.
Personal Qualities
In addition to the technical skills required, Dr. Miekella Okyere INC is seeking candidates who possess the following personal qualities:
Punctuality: Ability to consistently arrive on time and meet scheduled appointments.
Client Focus: Dedication to providing exceptional care and service to patients.
Dependability: Reliability and accountability in fulfilling job responsibilities.
Efficient Interpersonal Skills: Effective communication and teamwork abilities.
Excellent Oral Communication: Clear and concise communication with patients and colleagues.
Flexibility: Adaptability to changing work demands and patient needs.
Initiative: Proactive approach to problem-solving and continuous improvement.
Judgment: Sound decision-making skills in critical situations.
Organized: Strong organizational skills to manage patient records and appointments effectively.
Reliability: Consistency and trustworthiness in fulfilling job requirements.
Benefits
Dr. Miekella Okyere INC values its employees and offers a comprehensive benefits package, including:
Health Benefits: Access to a dental plan and healthcare plan.
Long-Term Benefits: Group insurance benefits and long-term care insurance.
Other Benefits: Learning and training opportunities paid by the employer, team building activities, parking availability, and the option for a variable or compressed workweek.
Application Process
If you are excited about this opportunity and meet the necessary qualifications, you can apply through one of the following methods:
Directly through Job Bank: Apply online by visiting the Job Bank website and submitting your application for the Certified Dental Assistant position at Dr. Miekella Okyere INC.
By Email: Send your application, including your resume and cover letter, to this EMAIL.
Please note that this job posting includes screening questions that you should answer when applying. The questions are as follows:
Are you currently legally able to work in Canada?
Are you willing to relocate for this position?
Do you currently reside in proximity to the advertised location?
Do you have previous experience in this field of employment?
Do you have the required certifications mentioned above?
Who Can Apply?
To be eligible for this job opportunity, please apply only if you meet the following criteria:
You are a Canadian citizen, a permanent resident of Canada, or hold a valid Canadian work permit.
If you are not authorized to work in Canada, please do not apply, as the employer will not be able to consider your application.
Conclusion
Don't miss this chance to join the dedicated team at Dr. Miekella Okyere INC as a Certified Dental Assistant in Sechelt, BC. This position offers competitive compensation, attractive benefits, and the opportunity to work in a supportive and professional environment.
If you have the required qualifications and a passion for dental care, apply today to embark on an exciting and rewarding career journey. Take the first step towards becoming an integral part of a dental practice committed to delivering exceptional patient care.