Are you a skilled Electrical Mechanics looking for a rewarding career opportunity? Look no further! Orange Preowned Motors Inc, a prominent automotive company based in Saskatoon, SK, is currently seeking talented and experienced individuals to join our team as Electrical Mechanics.
With a competitive salary range of $28.50 to $30.00 per hour (to be negotiated), full-time permanent employment, and a host of financial benefits, this is a fantastic chance to utilize your skills and contribute to the success of a well-established organization. Don't miss out on this exciting opportunity to take your career to new heights!
Job Description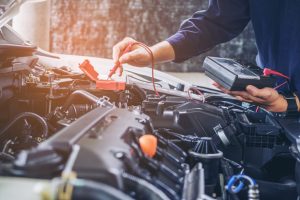 As an Electrical Mechanic at Orange Preowned Motors Inc, you will play a vital role in maintaining and repairing various electrical and mechanical equipment. Your primary responsibilities will include:
Testing and observing electrical and mechanical conditions of equipment.
Troubleshooting and repairing electric motors, transformers, switchgear, generators, and other electro-mechanical equipment.
Utilizing machining tools to fabricate or recondition parts.
Replacing or reconditioning shafts, bearings, commutators, and other components.
Welding or brazing components as required.
Instructing apprentices and providing guidance in their professional development.
Winding, assembling, and installing various types of coils.
Performing static or dynamic balancing of armatures or rotors.
Reading and interpreting blueprints for effective repairs.
Conducting machining to recondition or modify shafts, commutators, or other parts.
Performing on-site servicing and repair tasks.
Testing and repairing or replacing faulty wiring or components in electrical switchgear.
Ensuring proper performance of repaired motors, transformers, switchgear, or other electrical apparatus through thorough testing.
Required Skills and Qualifications
To excel in this role, the following skills and qualifications are necessary:
Education: A secondary (high) school graduation certificate.
Experience: 1 to 2 years of relevant experience.
Language: Proficiency in English.
Area of Specialization: Electric motors, transformers, switchgears, rotors, shafts, bearings, coils, armatures, and switches.
Ability to troubleshoot and diagnose complex electrical and mechanical problems.
Proficiency in using machining tools for fabrication and reconditioning of parts.
Familiarity with welding and brazing techniques.
Strong ability to read and interpret blueprints accurately.
Physical stamina and manual dexterity to meet the demands of the job.
Excellent interpersonal skills and the ability to work effectively in a team.
Flexibility and adaptability in a fast-paced work environment.
Work Environment and Compensation
At Orange Preowned Motors Inc, we value our employees' well-being and offer a range of benefits to ensure a fulfilling work experience. The work conditions and physical capabilities for this role include:
Physically demanding tasks with extended periods of standing.
Bending, crouching, and kneeling as part of the job requirements.
Ability to distinguish between colors for accurate diagnosis.
A fast-paced environment with a combination of sitting, standing, and walking.
Competitive salary range of $28.50 to $30.00 per hour (to be negotiated).
Full-time permanent employment with 32 to 40 hours per week.
Comprehensive health benefits, including dental, disability, health care, and vision care plans.
Personal Suitability
To thrive in our organization, we seek individuals who possess the following personal qualities:
Client focus: Dedication to providing excellent service to our valued customers.
Dependability: Reliable and committed to meeting work obligations.
Efficient interpersonal skills: Ability to communicate effectively with team members and clients.
Flexibility: Willingness to adapt to changing work demands and schedules.
Judgment: Capable of making sound decisions and problem-solving.
Reliability: Consistently delivering high-quality work.
Team player: Collaborative and able to work effectively in a team environment.
Application Process
If you meet the eligibility criteria and are ready to take on this exciting opportunity, we encourage you to apply by this EMAIL.
Please include your updated resume and a cover letter detailing your relevant experience, skills, and why you believe you would be a great fit for the position.
Please Note
This job opening is exclusively available to Canadian citizens, permanent residents, or temporary residents with a valid Canadian work permit. If you do not meet these requirements, we kindly request that you refrain from applying, as the employer will not respond to your application.
In Conclusion
Orange Preowned Motors Inc is thrilled to offer two vacancies for Electrical Mechanics in Saskatoon, SK. With competitive compensation, full-time permanent employment, and a range of benefits, this is an excellent opportunity for skilled professionals to join a respected organization. Apply today and embark on a fulfilling career in the automotive industry with Orange Preowned Motors Inc.